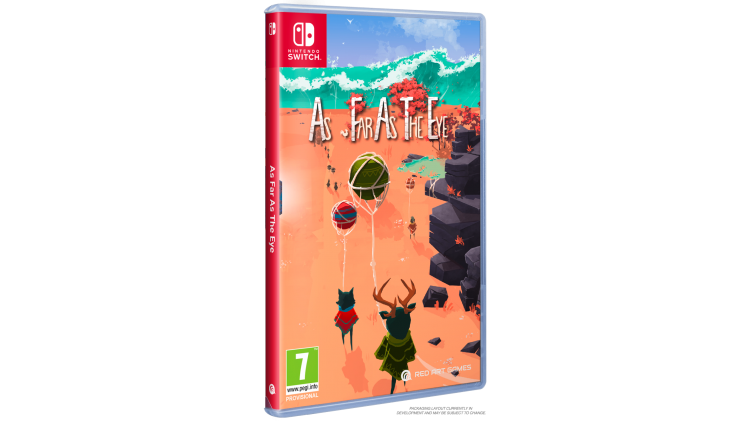 arrow_back_ios_new arrow_forward_ios
Please note that the game is limited to 3 copies per customer, thank you.
Collector's Edition will include:
As Far As The Eye Standard Edition
Double LPs of the game's soundtrack (22 tracks)
One lithography signed by ZeratoR 
A collector box
In As Far As The Eye, players have to build a mobile village and travel with their tribe toward the center of the world to a place called The Eye. This roguelike turn-based resource-management game is full of procedural situations, natural events, skill-trees and hard choices. 
Players play as the wind guiding the Pupils, a tribe that must reach the center of the world. They will have to manage their resources, their buildings, and their lives. Help the Pupils grow wiser through agriculture, crafting, scientific and mystical research before the world is submerged. Be careful though, it is necessary to manage the tribe perfectly and make sure they're not starving or surprised by the waters.
The game is a nomadic turn-based city builder. Begin a procedurally generated journey, survive and advance stop after stop, as far as the Eye.
Features:
Explore, analyze and search places of interest for long lost treasures on a procedurally generated journey
Harvest, build, stock and leave your halt before the wave engulfs your tribe
Tune your play session with game modifiers such as game duration, halt size, resources generation and more
Experience a peaceful adventure as there are no enemies in As Far As The Eye
Relive a new adventure each time thanks to the game's Roguelike tribe system
*** VERSION FRANÇAISE ***
Veuillez noter que cette édition est limitée à 3 exemplaires par personne et que les codes promos offrant les frais de port gratuits pour la France ne s'appliquent pas sur cette version du fait des dimensions du collector, merci de votre compréhension.
L'édition collector contiendra :
L'édition standard de As Far As The Eye 
La bande-originale du jeu dans un double vinyles (22 pistes)
Une lithographie signée par ZeratoR 
Une boîte collector
Dans As Far As The Eye, construisez un village nomade et voyagez avec votre tribu vers le centre du monde, appelé l'Œil. Ce roguelike de gestion de ressources au tour-par-tour est composé de situations procédurales et d'événements climatiques.
Le joueur incarne le Souffle qui guide les Pupilles, une tribu qui doit atteindre le centre du monde. Il doit gérer les ressources nécessaires au Voyage, les bâtiments et les vies de ces petits êtres connectés à la nature. Le joueur doit les aider à devenir plus sages grâce à la récolte, la production ainsi qu'à la recherche scientifique et spirituelle. Il doit cependant faire attention, car les Pupilles doivent survivre tandis que progresse la vague qui submerge les terres.
As Far As The Eye est un jeu de gestion de ville nomade au tour par tour. Démarrez un nouveau Voyage généré procéduralement et survivez, étape après étape, jusqu'à l'Oeil.
Features :
Explorez, analysez et fouillez des points d'intérêt pour y trouver des trésors enfouis lors d'un voyage généré procéduralement
Récoltez, construisez, stockez et quittez votre étape avant l'engloutissement de votre campement par la vague
Jouez à votre rythme avec des paramètres comme la durée de la partie, la taille des étapes, la génération de ressources et plus encore
Vivez une aventure paisible ; il n'y a pas d'ennemis dans As Far As The Eye
Vivez une nouvelle aventure à chaque partie grâce au système de tribu inspiré par les Roguelike du jeu