On June 23rd, players will be able to dive back in the tortured Skautfold universe when Skautfold: Usurper is released digitally on all currently available consoles. In order to learn more about the game, we have decided to go straight to the source: Steve "Pugware" Gal, the creator and sole developer of the Skautfold games. 
- Red Art Games: How did the Skautfold series came to be and what were your inspirations? 
Steve "Pugware" Gal: I had always dreamed of making games of my own, and had nurtured a big complicated project but quickly had to realize I would have to first create smaller more diverse experiences to learn more about game design and all aspects of creating games. Thus I began Skautfold where the focus would be on different characters using different genres of games. As for inspiration they range from a hundred different games, manga, anime, and of course stories from scify and horror.
- Can you explain what the story is at the beginning of the game?
It's an alternate history setting where most of the world is rules by two major empires, the British and the Dawn empire, the setting is haunted by the fact that Lovecraftian forces are real and have been actively altering historical events since around 1000AD. At the start of the game a giant alien structure suddenly lands in the centre of London and Lovecraftian beasts begin pouring out. After a short clash things calm down and this is where the story starts.
- Lots of Metroidvania games came out over the last few years. In your opinion, how does Skautfold: Usurper sets itself apart from the rest? 
I would say that it is the Guard system. It is a combination of a shield and stamina which creates a very different rhythm to combat and focuses on risk and reward. According to fans, the atmosphere and creature design is also worth noting as it can be surprising at times.
- Can you tell us a bit more about the Guard System? 
As mentioned before it is akin to a combination of a shield or barrier and stamina, it wants you to get in the enemy's face and take risks, and circumvent relying on heals as many games do. It regenerates passively so it is all about learning a nice rhythm to being offensive and defensive.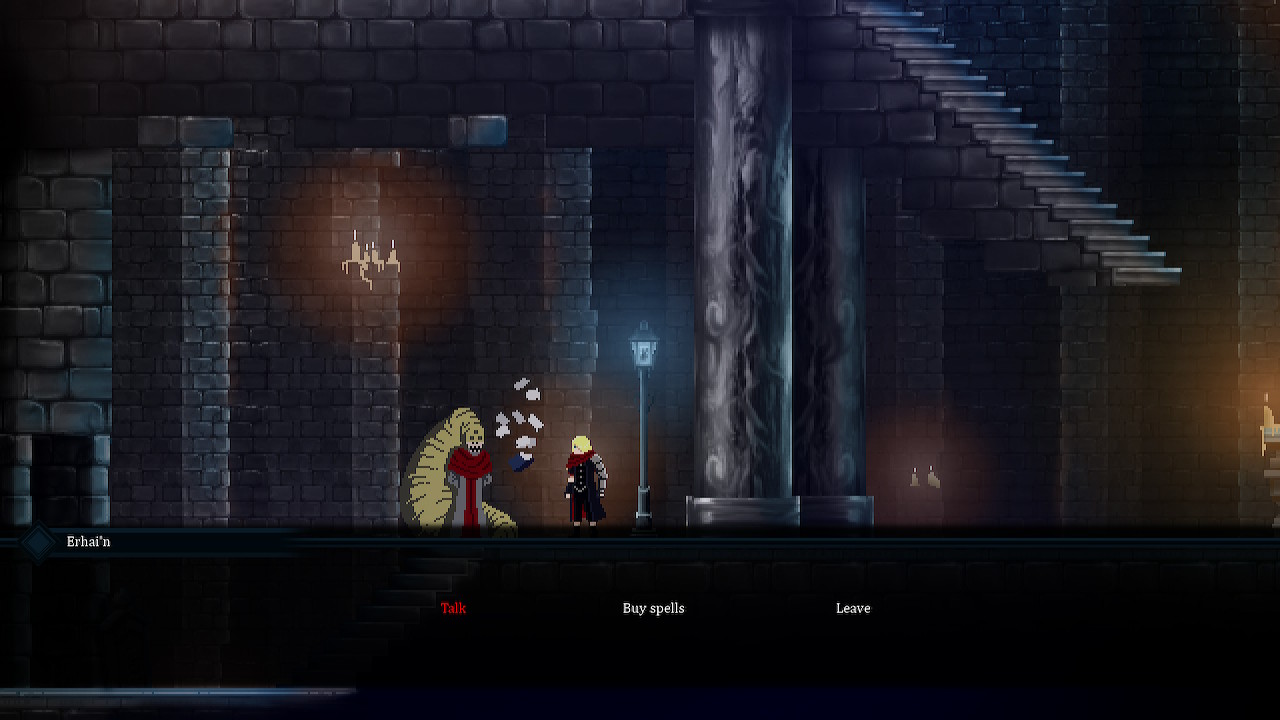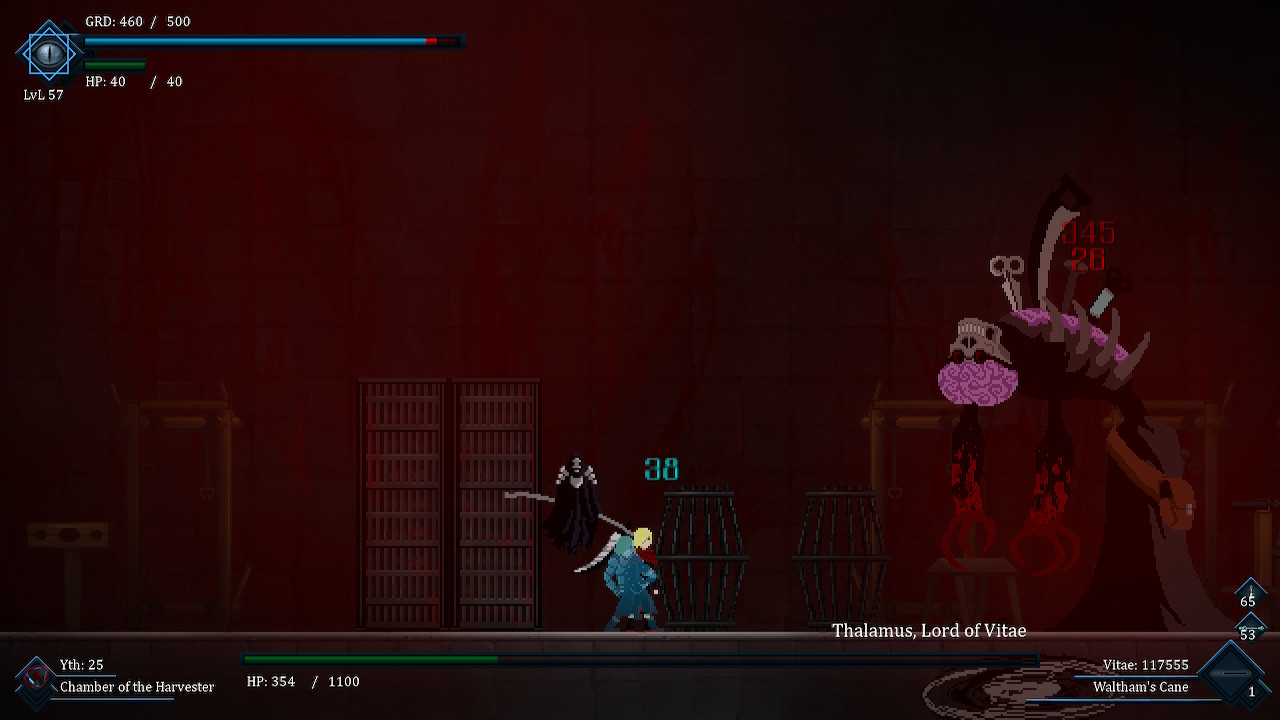 - What kind of advice would you give to a player who jumps into Skautfold: Usurper for the first time? 
Understanding how the Guard system works and how forgiving it actually is, it will save your life and let you have a lot more fun a lot faster.
- Is there something in the game you would like players to pay special attention to?
Usurper's story contains several massively important setups and hints at things to come not just for the rest of Skautfold, but its sequel series Granser, so besides the story and hinted details, just explore the map thoroughly to find some of those hints.
- You've previously said that having played Skautfold: Shrouded in Sanity isn't required to understand and enjoy Skautfold: Usurper. But what kind of callbacks or easter eggs will people who have played the previous game get when they play Usurper? 
You play as one of the bosses from Shrouded in Sanity, and besides that other key characters will reappear, as well as you can come to understand their perspective on that game's events a bit more. The mystery of one talking animal will also deepen.
- Is there a message that you want to send to fans of the Skautfold series? 
Thank you very, very much for your support and I am very happy to see people enjoy my weird games, and hope they will enjoy this one too as there was a lot of love poured into it.
Ported to consoles by Red Art Studios, Skautfold: Usurper is coming digitally to Nintendo Switch, PS5, Xbox Series X|S, PS4 and Xbox One on June 23rd. Nintendo Switch, PS5 and PS4 physical copies will come out on September 1st and can still be pre-ordered from redartgames.com.
Those of you who watched the Guerrilla Collective Showcase 2023 Livestream may have noticed that we announced a brand new game during the show.


And that game is Promenade.


In French, to go on a "promenade" means to take a leisurely stroll. But in this brand new game from Holy Cap and Red Art Studios, the promenade is akin to an epic adventure across a huge world full of beautiful lands and filled with funny creatures!
Promenade is a 2D Collectathon type game that rewards exploration and creativity. Play as the Kid who, alongside his trusty sidekick, will have to face challenges, solve puzzles and have his skills tested. Things won't be easy, but then again, who said that growing up is easy?


Today, we can only share that Promenade is coming to consoles and PC in 2023. Of course, we will have a lot more to share regarding the game and its release in the coming months. So stay tuned and get ready to go on a walk like no other!
Hi everybody and welcome to the new and improved Red Art Games official website!
We are happy and excited to finally be able to share what we have been working on behind the scenes for months! On our new website you will get faster access to the games you are looking for, additional information about our products and where to buy them, details about our ESRB-rated titles (in association with VGP) and digital offering as well as more information about the Red Art Games team and what we do. Please bear with us while the paint dries and we iron out any unforeseen bug.
As we have teased over the last few days, this updated website is not the only announcement that we had to make. We are also launching brand new product lines: the Deluxe Edition and Exclusive Edition lines!


More choice for players and collectors
Before going into detail about those two new lines, it must be said that Standard edition games are not going away! Every title offered as a part of the Deluxe Edition line will also be available as a Standard Edition and with the same level of quality that you have come to expect from us. Those Standard Edition titles will not be manufactured in limited quantities and will be available from a variety of online retailers including, but not limited to, Amazon, Fnac, VGP, GameStop, etc.


The Deluxe Edition has been created with players who love to get a little something extra with their games in mind. As we have just explained, every Standard Edition game will also get a Deluxe Edition release. Each Deluxe Edition title will feature a wraparound box sleeve as well as at least one physical bonus (poster, keychain, acrylic stand, etc.). Deluxe Edition games will only be available from Red Art Games' official online shop.


Exclusive Edition games are the titles manufactured in limited numbers that you have come to expect from Red Art Games, such as games with only 999 PS4 copies. Every Exclusive Edition release will be numbered and get its own box sleeve. As with Deluxe Edition games, Exclusive Edition titles will only be available from Red Art Games' official online shop.
We believe that those new lines give players more choice when it comes to purchasing Red Art Games titles and gives a little something extra to collectors and physical games fans. Our goal is to give more access to physical games to players while also offering the type of physical editions that we, as collectors ourselves, like to put on our shelves.

"We're just getting started"
While looking at the new additions to our catalogue, you might notice moderate price increases for some of our products. We have always tried to be as reasonable as possible when it comes to pricing. Both manufacturing and shipping costs have gone up considerably over the last 18 months and because we don't want to compromise on quality, we have had to apply a price increase to some of our products.
We will end this already long welcome post with a little teasing. Our new website, product lines and Skautfold: Usurper are just part of the announcements that we are planning. Stay tuned!