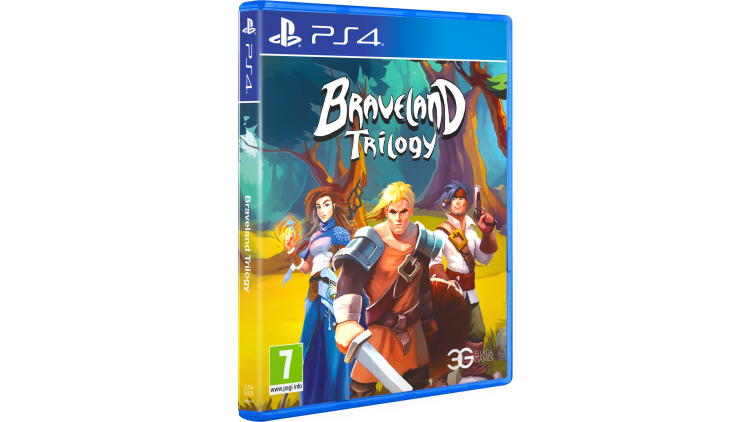 arrow_back_ios_new arrow_forward_ios
Braveland Trilogy is a compilation of three great turn-based adventure RPGs - the original Braveland, Braveland Pirate, and Braveland Wizard. Each game in the trilogy offers classic tactical combat and role-playing gameplay combined with new challenges, heroes, henchmen, enemies, and environments - and all three versions are playable on the PlayStation 4 for the first time!
Braveland is a turn-based adventure game inspired by old-school tactical role-playing games such as King's Bounty and Heroes of Might & Magic. In Braveland, you start as a humble warrior's son whose village was cruelly raided - and work your way to becoming the commander of a powerful army. Hand-crafted art complements a wonderful fantasy-based story where your young hero recruits allies to aid in the cause while learning spells and battling bosses on his way to becoming the ultimate protector of the land.
Braveland Wizard adds a new twist by placing you in the role of a new graduate of the magical academy. The game adds three schools of Battle Magic, a talent tree for deeper character development, more allies to recruit to your cause, and randomly created dungeons which offer your Wizard all kinds of rare rewards!
Braveland Pirate puts you in the role of the sea-dog Captain Jim, as he embarks on a quest to find the Eternal Treasure. Hordes of undead, chests full of gold, devious pirate captains, and breathtaking adventures await you in the Free Islands. This time around, you're equipped with a sailing ship and a hearty crew, setting sail for tropical paradises loaded with loot!
"PlayStation" and "PlayStation 4" are registered trademarks of Sony Interactive Entertainment Inc. Braveland Trilogy ©️ 2021 Ellada Games. Published by Red Art Games. Developed by Tortuga Team Limited. All rights reserved.